Travel Photography Lectures - our first Cruise experience
This October I was given the opportunity to lecture about travel photography on a cruise ship, and so, Powerpoint in hand, my young lady and I headed to Istanbul to join the adventure on the high seas! Sadly our day in the ancient Turkish city was cancelled due to some of those nasty terrorists doing something unpleasant nearby, so we set sail the day we arrived. Never having cruised before, we weren't really sure what to expect, other than the usual preconceptions about being stuck on a large, crowded boat full of old people & feeling trapped! Thankfully, the experience was entirely different, however, we still had lectures to write...
View of the Celebrity Constellation cruise ship from Mykonos harbour, with Greek flag flying
Travel photography is something that I have always enjoyed, although I have never really explored it in any proper business way. Exploring new, interesting and beautiful places is be one the most wonderful passtimes human beings can enjoy, and capturing those destinations and experiences photographically is another. Therefore I thought I had a fairly easy task to talk about travel photography for a few 45 minute sessions. But then I started to think about it - and yes, of course everyone enjoys taking pictures while they are on holiday or visiting somewhere new, but consequently everyone does it and so it might be actually be quite difficult to impart any knowledge or advice that the audience had not encountered before! I was starting to think that I may not have as much to offer as I'd initially imagined!
As a professional photographer I started consider what advice I could give that the casual amateur might not have come across. Basic trainging in photography and indeed painting or drawing teaches composition, so a section on that might be useful relating specifically to photography. I also understand better than many the importance of telling a story with each picture, so I added a section on that. I talked little about evolving technology to make everyone aware of all the options they had these days for taking pictures, and gave examples of what and who each was good for. Some general examples, DSLRs for serious photographers, CSCs for people who wanted all the lens options but small size, or phones & iPad cameras for those who just want to snap for memory and have those pictures immediately and easily available to show others. Some people who would be wonderful photographers are put off because they have a camera that's a bit too complicated, and some because they are too limited by the equipment
A view across Dubrovnik, Croatia
they have, so it is important to start small and work up as your experience and knowledge increase naturally. A lot of people were nodding at this!
For all the different topics I talked about I added illustrative photographs from my own collection, examples both good and bad. The great thing about being on this cruise was of course that we were visiting some beautiful and interesting places on the way, so I was able to insert photos I'd taken during the cruise, which gave an extra point of connection and focus for the audience, who had no doubt been snapping similar views and were keen to see how differently I looked at and captured those scenes. Some shots on my superwide lens just of the ship itself were well received, just because that field of view was not available to smaller cameras, and that realisation was interesting to observe.
Life on the ship was simply spectacular. All the stories and pictures you may have seen of opulent, beautiful, spacious and luxurious areas, bubbly swimming pools, well stocked bars, incredible food, and five star service was certainly how we found the experience. The service especially was incredible. By the second evening our sommelier had learnt our names, the lady who turned down our room had introduced herself and everyone we saw on board had nothing but a smile for us! We had the most sumptuous meals, had wonderful relaxing hours on the deck in the sun, by and in the pool. No where was crowded, or even busy at any time, except the dining rooms at set meal times, and the theatre of course during the excellent
Dubrovnik, Croatia
evening shows on board. And that's not to mention the destinations!
Overall, we had a simply wonderful experience on the ship, and we would urge you to try one out forthwith! Cruising is also not anything like as expensive as it used to be, in fact it is pretty much impossible to stay in even a three star hotel in anywhere nice in Britain for the same as a night on board - and that of course wouldn't include all the associated benefits, limitless food, and incredible views!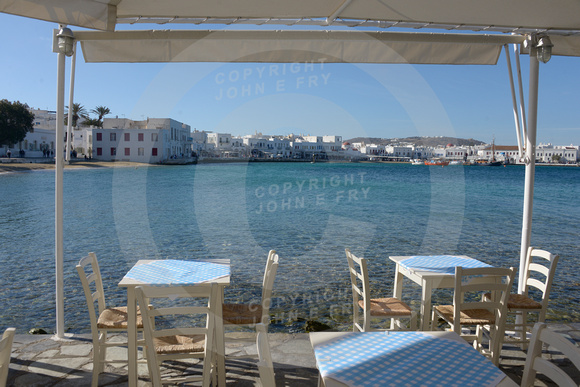 Mykonos harbour & seafront, from restaurant veranda